THE SUSTAINABLE CHRISTMAS MARKET
Yes there it is again! The Sustainable Christmas Market at the Ceuvel. Due to success, not one, but two weekends! 9, 10, 16 & 17 December it's that time again. The best sustainable Christmas gifts for under your tree can be found here! From sailed coffee to sustainable soap.
Stroll around the market among the pretty lights, drink our famous glüwein by the fire and taste our homemade vegan 'Snert'.
Mark your calendar and come and buy Christmas presents at De Ceuvel with your best (four-legged) friend, grandma, grandpa or neighbour.
LIVE MUZIEK
Enjoy acoustic live music with a Christmas feel, including:



JACAMAR
With their permanent rehearsal space in the Kabaalmakersboot on the Ceuvel, they provide a real Ceuvel feel. Their 'Sunshine rock' will keep you warm during the cold days.
Wouter Bauman – Drums & Percussion
Dick Fennema – Bass
Kim van Haaster – Keys and vocals
Randy Haas – Guitar, vocals & lyrics.



SHAGGY GREYS
Shaggy Greys Trio combine a high energy mix of folk-rock-reggae with a touch of soul and lots of groove. Feat. Dean Medina (vocals, guitar, harmonica), Bram van Langen (vocals, bass) and the virtuoso Massimo Imperatore on guitar.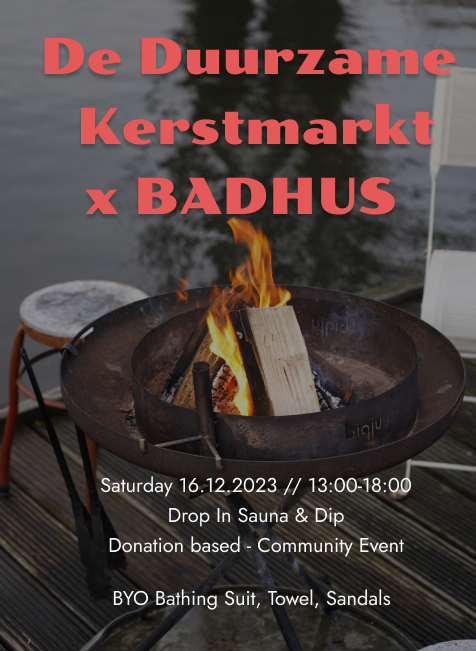 SUSTAINABLE CHRISTMAS MARKET X BADHUS
Zaterdag 16/12 // 13:00 – 18:00
Drop in Sauna & Dip
Donation based – Community Event

*BYO Bathing suit, Towel, Sandels.

THE SUSTAINABLE ENTREPRENEURS
Floraling
MoonWater
Primal Essence
diedezijn
Naomi's Woodwork
De Sierbrouwer
Storytaster
made with YADE
Daphne van der Meulen Jewelry
Bredero Mavo
NLichtje
mevrouw onkruid
Alon's Pickles
Eikemaheert (biologische boerderij in Loppersum)
Rise Clan and
MAKE IT COUNT LABEL – Jeffrey Ridder en Floortje Bijvoet
LisaHogers
The Plastic Free Co.
Het Nieuwe Logisch
Hans Haverkamp
Lili Jullian and Kindergarden&co
Mambeco
FIASCO!
Nerea Mia
Etty met
Beigeaholic
KRUIDEN OP ZOLDER/DE KRUIDENSCHOOL
Midegain
OKIDOKI
KAAP KOFFIE & RUM
Laura Dubourjal'
Atelier Sophia Bernson
Arsh.
Studio Garlaban
Marieke Honingh Illustraties en print
Beewise
Leave your sword
Wilderlust
Aisha
Läbchuechehuus
Land van Ons
Tes Miedema
Skinny G's

TIMES & DATES
Saturday 9 December // 1 p.m. to 8 p.m.
Sunday 10 December // 1 p.m. to 8 p.m.
Saturday 16 December // 1 p.m. to 8 p.m.
Sunday 17 December // 1 p.m. to 8 p.m.