Op 13 mei 2017 organiseren CollAction & De Ceuvel het Make The World Great Again Festival! Centraal bij dit festival staat positieve actie, door middel van crowdacting. Je kan op het festival namelijk al die dingen doen die je misschien al lang van plan was, maar steeds niet deed: overstappen van energieleverancier, afval recyclen, bloed doneren, autodelen of vrijwilligerswerk. Ook kun je zelf een eigen crowdact starten.
Op het terrein van de Ceuvel is een steiger waaraan allemaal grote woonboten liggen. Deze steiger wordt voor een dag omgetoverd tot 'transformatietunnel'. In de verschillende boten, met thema's als "Make Money Great Again" en "Make Trash Great Again" word je op creatieve en interactieve wijze geprikkeld om je via een 'crowdact' op
collaction.org
in te schrijven op een positieve actie. Als je van de steiger komt, heb je je dus gecommitteerd aan een hele reeks 'crowdacts' die de wereld een stukje beter maken en ben je "getransformeerd" :). Naast de activiteiten op de bootjes, draaien we op het plein lekkere plaatjes en spelen er toffe muzikanten en bandjes.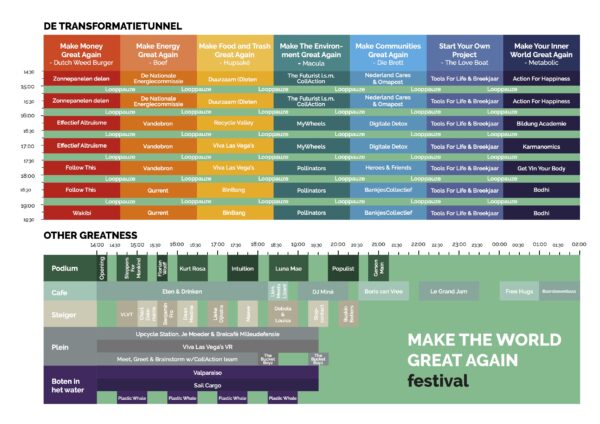 Tickets: De toegang tot het festival is gratis. Om de grote animo te stroomlijnen hebben wij bezoekers verzocht om 2 drankjes vooraf af te rekenen (t.w.v. €6, incl. kosten voor de ticketing service). Bij aankomst op het festival krijgen zij 2 muntjes voor drankjes. Deze tickets zijn inmiddels uitverkocht!
Heb je een ticket maar kun je toch niet komen? Bied deze dan alsjeblieft aan via Ticketswap. Op de dag zelf zullen we via de Facebook pagina laten weten als we nog mensen binnenlaten, maar bezoekers met een ticket hebben altijd voorrang.