DE DUURZAME KERSTMARKT
Ja daar is hij weer!  De Duurzame Kerstmarkt op de Ceuvel. Wegens succes niet één, maar twee weekenden! 9, 10, 16 & 17 december is het weer zo ver. De leukste duurzame kerstcadeaus voor onder je boom vind je hier! Van gezeilde koffie tot duurzame zeep.
Struin over de markt tussen de mooie lampjes, drink onze welbekende glühwein bij een  vuurtje en proef onze huisgemaakte vegan snert. 
Zet 'm in de agenda en kom met je beste (viervoeter)vriend, oma, opa of buurman gezellig kerstcadeautjes kopen op De Ceuvel.

LIVE MUZIEK
Geniet van akoestische live muziek met een kerstrandje, met onder andere:


JACAMAR
Met hun vaste repetitieruimte in de Kabaalmakersboot op de Ceuvel, zorgen ze voor een echte Ceuvel feel. Hun 'Sunshine rock' houd je warm tijdens de koude dagen.

Wouter Bauman – Drums & Percussion
Dick Fennema – Bass
Kim van Haaster – Keys and vocals
Randy Haas – Guitar, vocals & lyrics.



SHAGGY GREYS
Shaggy Greys Trio combineert een energieke mix van folk-rock-reggae met een vleugje soul en veel groove. Met. Dean Medina (zang, gitaar, harmonica), Bram van Langen (zang, bas) en de virtuoze Massimo Imperatore op gitaar.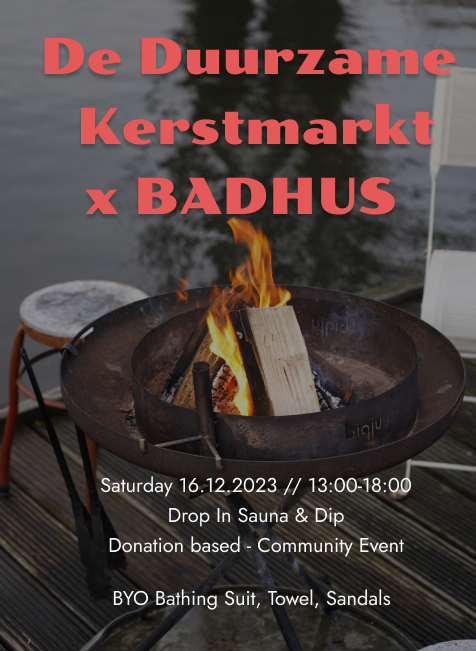 DE DUURZAME KERSTMARKT X BADHUS
Zaterdag 16/12 // 13:00 – 18:00
Drop in Sauna & Dip
Op donatie – Community Event

*zelf meenemen; zwempak, handdoek, slippers.
DE DUURZAME ONDERNEMERS
Floraling
MoonWater
Primal Essence
diedezijn
Naomi's Woodwork
De Sierbrouwer
Storytaster
made with YADE
Daphne van der Meulen Jewelry
Bredero Mavo
NLichtje
mevrouw onkruid
Alon's Pickles
Eikemaheert (biologische boerderij in Loppersum)
Rise Clan and
MAKE IT COUNT LABEL – Jeffrey Ridder en Floortje Bijvoet
LisaHogers
The Plastic Free Co.
Het Nieuwe Logisch
Hans Haverkamp
Lili Jullian and Kindergarden&co
Mambeco
FIASCO!
Nerea Mia
Etty met
Beigeaholic
KRUIDEN OP ZOLDER/DE KRUIDENSCHOOL
Midegain
OKIDOKI
KAAP KOFFIE & RUM
Laura Dubourjal'
Atelier Sophia Bernson
Arsh.
Studio Garlaban
Marieke Honingh Illustraties en print
Beewise
Leave your sword
Wilderlust
Aisha
Läbchuechehuus
Land van Ons
Tes Miedema
Skinny G's

DE TIJDEN & DATA
Zaterdag 9 december // 13:00 tot 20:00 uur
Zondag 10 december // 13:00 tot 20:00 uur
Zaterdag 16 december // 13:00 tot 20:00 uur
Zondag 17 december //  13:00 tot 20:00 uur